Revdanda Cottages
Revdanda Cottages at Revdanda Beach, Alibaug
How to get to Revdanda:
Notability:
Revdanda is also the location where St. Francis Xavier delivered one of his early sermons in India. The chapel still exists in a run down condition. The chapel is within the walled fort, on the south side and not far from the main road. There are many places to watch out in Revdanda. Revdanda is a historical place and relates closely to the era of Shivaji, though it's not one the famous places in history related to Shivaji.
Revdanda came into limelight when Russian historians found out that the first Russian traveller to India landed in Revdanda. A monument was raised in his memory on 23rd November 2000. A foundation stone for the monument in memory of Afanasy Nikitin, the first Russian traveller to India was laid at Revdanda. A high level delegation from Russia, accompanied by Mr. V.T. Trubnikov, the first deputy of the minister of Foreign Affairs of the Russian Federation, H.E. Mr. A.M. Kadakin, Ambassador of the Russian Federation to India, all senior diplomats from the Consulate General of the Russian Federation in Mumbai, attended the function.
Revdanda is one of the most important places of Konkan, Maharashtra for the Indian Jewish community. Almost 700 years ago after the destruction of the Holy Temple of Israel in Biblical era, a group of Jews who already knew about India and had been in contact with India. This group of people arrived in Nagav which is 15 minutes from Revdanda. They adopted Indian culture, names, lifestyle and founded an Indian Jewish community.
The beauty of this place lies in the coconut and beetlenut plantations in this region. The plantations of coconut trees is called "naralachi baag" or "wadi" in Marathi language. The place is also famous for a species of aromatic flower called "Bakuli". It's a small flower with a wonderful fragrance. Apart from the plantations of coconut and beetlenut the livelihood of people in this region comes from the production of rice. The best time to visit Revdanda is December and during the Monsoon season.
Sight seeing in and around Revdanda
1. Datta Mandir ( 3 Km )
Historical Dattatraya temple on hill in Chaul village. Has about 750 properly built steps. Can be approached from Hingulja devi mandir side. Hingulja devi temple is on a smaller hill and has 120 steps. From hingulja devi there is mountain path leading to Datta mandir. This is much simpler than climbing 750 steps of Datta mandir mountain. Take road via Hingulja devi for going to Datta mandir and come down by steps. This will be about 4 hours outing and reasonably strenuous.
A five days Yatra ( fair ) starting from Datta Jayanti day is a very important event for locals and for surrounding villages. The season during the period is very pleasant. The whole atmosphere is charged with yatra fever. This is some event every city dweller must visit once in a life time and enjoy the Yatra feel.
2. Daily Market
Typical village market near Maruti temple is a very interesting place to visit where fresh local farm produce are sold in the morning between 9 & 12 hours.
Fish Market runs in the mornings and evenings depending on the tide timings. You can have sea fresh seasonal catch.
3. Hingulja Devi ( 3.5 KM )
This temple is run and maintained by Bhansali community is situated on a hill which is a southern part of Datta mandir hill. 120 well built steps reach this temple. There are three temples and few other utility buildings. Bhansali community celebrates the temple festival annually on " Paush Pornima day ", the night fire works and a fair is attended by a large number of villagers & followers.
4. Sheetala Devi ( 3.5 KM )
Very old temple of Sheetaladevi, built by Peshawas & Angre families is a Gavdevi for locals. Renovated in 1997, this is a most important Gavdevi worshiped by all casts and religions. Tuesday and Fridays are special days for pooja. This temple is situated in the lush green coconut and supari plantations of Chaul. The road passes through plantations on both sides and journey itself is very pleasant. You can walk through plantations or go by car or riksha.
5. Rameshwar Mandir ( 1 KM )
Shankar temple in Chaul is an excellent specimen of Peshawa time architecture.
Pushkarani ( temple lake ) in front is full throughout the year. It is a enjoyable swimming pool in monsoon season.
All through the year temple festivals are celebrated with great enthusiasm.
6. Birla Mandir ( 4.5 KM )
Built by Grasim group near Vikram Ispat factory. This is a Ganesh temple of very modern architecture in white marble, situated on a small hill ( 130 easy steps ). This is a place visited by tourists from all around. The entire hill is a temple complex with beautiful gardens & fountains all around.
Visit this temple in the evening and enjoy the whole complex in floodlights. Temple is closed between 11 AM to 4 PM. Camera is not allowed.
7. Revdanda Harbor and nearby Beach ( 1 KM )
It is a very scenic spot whereby you can spend some time on way to Birla mandir. One Km. long bridge spans the Kundalika river which joins Arabian sea at Revdanda. You can have a nice view of Korlai fort, Revdanda fort, and curve in the sand leading to Revdanda beach and open sea.
You can watch fishing trawlers & iron ore barges going out or coming in from the sea. If you are a fishing fan, carry a hook & line. You can get some good catch from the bridge or from the rocks.
8. Revdanda Beach
This is a long stretch of over 5 KM of clean beach starting from Revdanda harbor with a green wall of coconut trees on Eastern side.
You get an excellent view of sun set with color play in the sky which lingers far beyond the actual sun set.
Revdanda beach is very safe for sea bathing, however, avoid going in the water during low tide.
9. Korlai village & Church ( 4 KM )
The village is populated by Roman catholic East Indians & local fishermen. Korlai has a rich historical background dating back to 300 years during Portuguese rule. A village church and adjoining convent school are in a typical rural setting and worth a visit.
Korlai has small section of beach with beautiful view of open Arabian sea.
10. Korlai Fort ( 4 KM )

Fort on the small hill was built by Portuguese as a watch post for protection of the Revdanda harbor. There is a new light house on the western slope for guiding the oncoming ships to Mumbai port.
Although the fort is in ruins these days, a medium tough day outing will provide lot of excitements for youngsters and history scholars.
11. Phansad Dam & reserved Forest ( 8 KM )
This is an earthen dam situated in the thick forest. Excellent spot for day picnic in all seasons, however more exciting during monsoon. Ideal place for forest lovers. Do visit Kajuwadi village to get a real village feel.
12. Nagaon Beach ( 10 KM )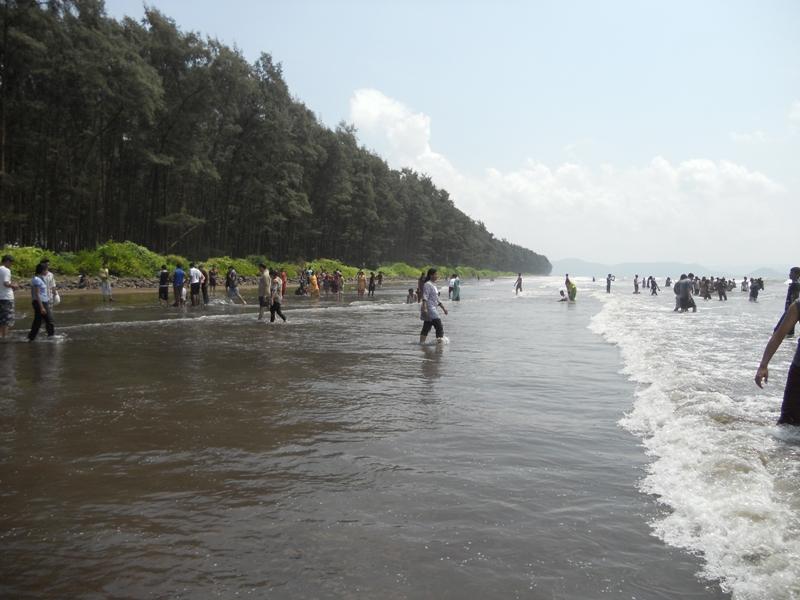 Nagaon beach is a flat clean stretch of sand with clear water and plantation of tall "suru" trees. Ideal spot for short or a day long outing.
13. Kashid Beach ( 17 KM )
Tiny stretch of beach on way to Murud. Popular due to vicinity of Suman motel resort.
Popular sto over on way to Murud
14. Siddhivinayak Temple at Nandgaon ( 23 KM )
A very famous Ganesh temple in Nandgaon – on way to Murud – is surrounded by lush green coconut and supari plantations
15. Beth El Jewish Synagogue
Beth El Synagogue is located in chaul region one of village of Maharashtra India called revdanda.
It is almost 100 years old synagogue which was build in the locality where largest Jewish Population lived. This synagogue is konkani style of synagogue different than other synagogues around the world. Location is within the place where there is coconut trees around. It has a special women's Gallary on the top and also its structure is different and very unique.
 Contact us for tariff and bookings